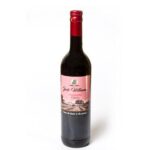 Jack Williams 750ml Natural Sweet Red Wine
brand-JackWilliams, type-alcoholic beverage, volume-750ml, variant-naturalorganic/sweetredwine
Description
Brand
Additional information
Reviews (0)
More Offers
Store Policies
Inquiries
Description
Wine is a designation of refined alcohol best consumed by adults (*people above 18yrs) after a meal. It can be taken after an afternoon meal, evening dinner or after supper. It involves dietary benefits when consumed in moderation and when not driving as it has a similar effect to beers. It can also be used when baking pastries(cookies,cakes and flatbreadpies), marinating white meat themed meals(fish/chicken/rabbitmeat), sprinkle flavoring of barbequed beef cuts and pork cuts in moderation. Duly order fine wine today courtesy of Sefbuy.com and we will deliver it instantly to your doorstep. We are a Safe, Easy and Fast online shopping experience.
No more offers for this product!
General Inquiries
There are no inquiries yet.