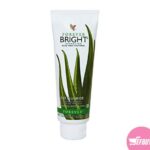 Forever living bright aloe vera toothpaste.
100% Natural
99.75% Organic Aloe Vera Gel
No Added Color.
| | |
| --- | --- |
| Brand | |
| Model Name | Living Bright Aloevera Tooth Gel |
| Quantity | |
| Minimum Age | |
| Maximum Age | |
| Ideal For | |
| Ingredient Type | |
| Pack of | |
| Organic Type | |
Description
Informations complémentaires
Avis (1)
Plus d'offres
Store Policies
Renseignements
Description
Forever Bright Toothgel by Forever Living. This gentle, no fluoride formula toothpaste contains high quality ingredients including Aloe vera and bee propolis. Natural mint flavoured toothgel for a taste that will leave your mouth refreshed and your teeth clean.
Make your teeth shine with Forever Bright Toothgel, after only a few uses this aloe toothpaste can help your teeth to gleam while feeling fresh. This toothgel is suitable for all the family to use, even your pets! With a fresh minty taste, Forever Bright Toothgel contains a non-fluoride formula and uses only natural ingredients to keep your teeth feeling clean. This Forever toothpaste is suitable for vegetarians and contains no animal by-products.
High-Quality Forever Bright Toothgel
The Dominican Republic's Forever Living Aloe field is the world's largest and most spectacular aloe plantation. All Aloe is harvested at the plantation and delivered to be processed as soon as possible to ensure that the inner gel retains its nutritious and natural properties. The gel is then stabilised in a unique way, with Forever Living being the only firm in the world to possess the patent for this method of Aloe stabilisation. This indicates that the Aloe in Forever Bright Toothgel is of the highest quality, helping to keep your teeth sparkling and pearly white!
Bee Propolis & Aloe Toothpaste
Bee glue, also known as bee propolis, is a natural combination made by honey bees from materials collected from plants and trees. This medicinal ingredient has been used by people for thousands of years to protect beehives against intruders in nature. Antimicrobial, antioxidative, and anti-ulcer characteristics are only a few of the many advantages. You can find Bee Propolis inside Forever Bright Toothgel – so it not only cleans your teeth, but naturally protects them too!
Forever Bright Toothgel (Aloe-Based Formula For Effective Cleaning Your Teeth) Forever Living Bright Tooth Gel Natural Product For Teeth Good For Dental Care 100% Veg. Natural Peppermintand Spearmint Flavorings Aloe Vera Has Long Been Treasured For Its Quality And Versatility – Including Dental Care. Your Teeth Will Gleam With Forever Bright, One Of The Best Toothgels On The Market. Formulated For The Entire Family To Use, Forever Bright Contains Only The Highest Quality Ingredients. It Is Also Suitable For Vegetarians Since It Contains No Animal By-Products. Natural Peppermint And Spearmint Flavorings Leave Your Mouth Feeling Fresh And Clean. Years Of Research, Development And Collaboration With Scholars And Dentists Have Provided Forever Living With The Optimum Aloe-Based Formula For Effective Cleaning. Your Family Will Love The Flavor And The Clean Mouth-Feel. Ingredients Aloe Barbadensis Gel (Stabilized Aloe Vera Gel), Sorbitol, Hydrated Silica, Glycerin, Sodium Lauryl Sulfate, Chondrus Chrispus (Carrageenan), Flavor (Aroma), Bee Propolis, Sodium Saccharin, Sodium Benzoate, Chlorophyllin-Copper Complex Contents Net Wt. 4.6 Oz (130G)
Forever Bright Toothgel is certified by The International Aloe Science Council.
Buy yours today from sefbuy and experience express deliveries. Remember, at sefbuy, we are safe,easy and fast.
Informations complémentaires
Plus d'offres pour ce produit!
Questions et demandes générales
Il n'y a pas encore de demandes de renseignements.